Wheat Scourer
Product Detail
Production Case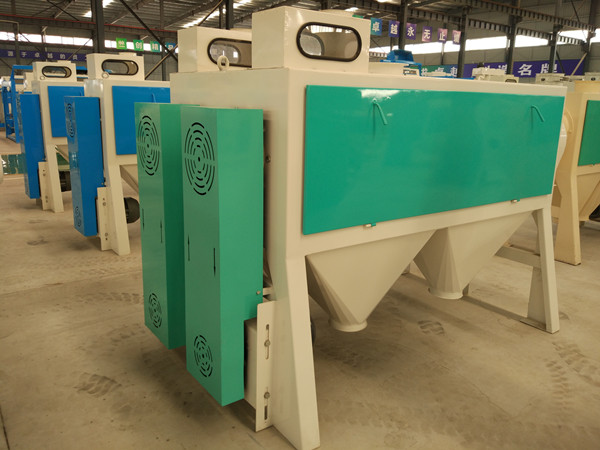 Functions
The FDMW series horizontal wheat scourer is developed for the grain cleaning process in flour mills. It makes use of mechanical strike and rubbing effect to remove dust, silt, husks, worms, wheat beard, microorganisms and other foreign matters adhered to the grain surface, and it could break clods, cinders, insects, shriveled wheat kernels as well as other matters whose strength is lower than that of wheat into small particles and then remove these particles away. Moreover, the remaining sterile lemmas are also separated. In this way, ash content of the unprocessed wheat is cut down, resulting in improved color, reduced ash and sand content of the flour.
After every wheat scouring process, the ash content should be reduced by 0.02% or higher, and the wheat fragment increment should be not over 0.5%.
Features
1. Super Scouring Result
Our wheat scourer is able to deliver desired scouring performance to let the final products achieve the best sanitary conditions. This is mainly divided into three aspects.
a. This machine cuts down the number of bacterium, fungus and other microorganisms, and it could remove insects and their fragments to the largest extent. So, the cleanness and hygiene of the wheat are significantly enhanced.
b. With the help of this product, dust, sand, clods and other impurities that adhere to the grains are all removed. This facilitates the upcoming grinding operation.
c. A vertical air separator or a circulating air separator could be placed at the discharge end of our product to effectively remove chaff and foreign matters.
2. High Throughput with Little Space
This horizontal wheat scourer adopts a space-saving design, and it can be installed in an existing factory easily. Meanwhile, our product is characterized by high processing capacity, and the throughput of FDMW40×150×2 could reach up to 20t/h.
3. Versatile Applications
Our product is not only applicable for wheat, but also fits for oats if equipped with proper rotor and screen jacket.
Technical parameter
:
| | | | |
| --- | --- | --- | --- |
| Model | Throughput (t/h) | Power (kW) | Overall dimensions (L×W×H, mm) |
| FDMW30×60 | 2-4 | 5.5 | 1450×650×1350 |
| FDMW40×100 | 4-7 | 7.5 | 2200×720×1750 |
| FDMW40×150 | 7-10 | 11 | 2700×720×1750 |
| FDMW40×150×2 | 14-20 | 2×11 | 2700×1200×1750 |
*********************************************************************************************************************************************
OUR FACTORY:

FAIRS:

CUSTOMER VISIT:
OUR SALES TEAM:
---
Previous:
Wheat Bran Finisher
Next:
Magnetic separator
---